About this webinar
In an age in which cables are becoming less and less common, WITS Networks still require physical cables to connect legacy softwares. At Erdos Miller, that didn't make sense. That's why we decided to say Goodbye to physical cables, and Hello to NetWITS.
We believe in supporting you by providing helpful tools for you to utilize in the industry and with the expectation of helping you simplify the development and testing of WITS-based communications projects, we are offering this webinar recording in which you'll learn how you can get the most out of NetWITS and get answers to the most frequently asked any questions you have on using it.
Check out the full webinar recording here.
From watching this Webinar Replay you will learn how to:
Create wireless WITS connections, avoiding cable clutter!
Simplify

WITS network setup.
Set up

more

complex WITS networks

that were not possible with cables previously.
Get

more reliable

WITS connections.
Optimize

the way in which you develop and test your WITS projects.
About NetWITS
NetWITS is a LAN WITS relay program that allows you to connect any number of legacy WITS softwares, on separate PCs, together without the need of any physical cables.
Since it was first launched in 2018, NetWITS has been downloaded by more than 150 Oil & Gas industry professionals, including: Technology Managers, R&D Engineers, Operation Managers, Product Managers, Field Engineers, Project Specialists, High-level Executives, and Students.
The NetWITS approach drops the requirement of physical proximity while adding a LAN requirement . Instead of using physical cables, NetWITS uses TCP network communication to transport WITS packets from PC to PC.
NetWITS also allows for more complex WITS network configurations as you are no longer limited to only point-to-point configurations.
Traditional Approach:

NetWITS Approach: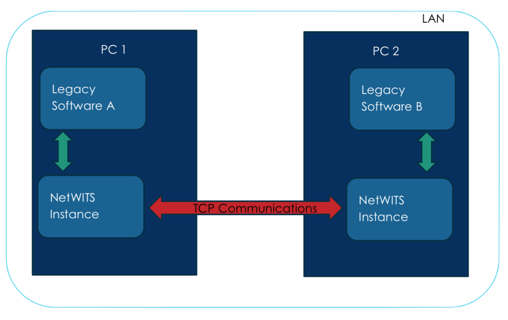 Download Erdos Miller's NetWITS
This is the software that we will be using during the LIVE Webinar. Please make sure you have it downloaded in your computer!
If you're developing or deploying software anywhere the WITS specification is used and are tired of the cable clutter, EM's free NetWITS Software is right for you!
With NetWITS, connect any number of legacy WITS softwares, on separate PCs, together without the need of any physical cables.
So, it's feels just like developing on WITS, but on the 21st Century...