The Erdos Miller team brings their collective experience from across the oil and gas industry to create innovative and cost-effective solutions for our clients.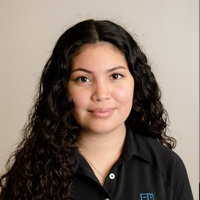 Kenia Garcia
Electronics Assembly Technician
Kenia has prior experience with electronics through participating in the high school robotics team and taking an auto tech class. She currently has an associate degree in mathematics of science and is pursuing her bachelor's degree in Mechanical Engineering or Mechanical Engineering Technologies. She wishes to gain as much experience as possible to get a jumpstart in her career.